PETITION TO ESTABLISH A WHALE PROTECTION ZONE FOR THE SOUTHERN RESIDENT KILLER WHALE (ORCINUS ORCA) DISTINCT POPULATION SEGMENT under the Endangered Species Act
and Marine Mammal Protection Act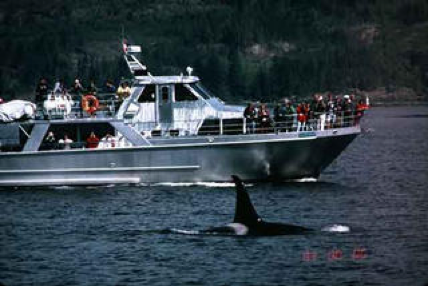 ORCA RELIEF CITIZENS' ALLIANCE
CENTER FOR BIOLOGICAL DIVERSITY
PROJECT SEAWOLF
November 2016
[View the full PDF document]

NOTICE OF PETITION
Penny Pritzker
Secretary of Commerce
U.S. Department of Commerce
1401 Constitution Avenue N.W.
Washington, DC 20230
Email: TheSec@doc.gov

Dr. Kathryn Sullivan
Under Secretary of Commerce for
Oceans & Atmosphere and
NOAA Administrator
1315 East-West Highway
Silver Spring, MD 20910
Email: kathryn.sullivan@noaa.gov

Eileen Sobeck
Assistant Administrator for Fisheries
National Marine Fisheries Service
1315 East-West Highway
Silver Spring, MD 20910
Email: eileen.sobeck@noaa.gov

William Stelle
Regional Administrator
National Marine Fisheries Service
7600 Sand Point Way NE
Seattle, WA 98115
Email: Will.Stelle@noaa.gov

Lynne Barre
Seattle Branch Chief
Protected Resources Division
National Marine Fisheries Service
7600 Sand Point Way NE
Seattle, WA 98115
Email: Lynne.Barre@noaa.gov
PETITIONERS
Orca Relief Citizens' Alliance
Post Office Box 1969
Friday Harbor, WA 98250
Email: bstedman@orcarelief.org

Center for Biological Diversity
1212 Broadway #800
San Francisco, CA 94612
Phone: 510-844-7100

Project Seawolf
Post Office Box 929
Marysville, WA 98270
Email: michael@seawolfmedia.com
Orca Relief Citizens' Alliance ("Orca Relief") is a non-profit organization committed to conservation of killer whales (Orcinus orca), with a primary focus on the southern resident killer whale (SRKW) population stock in the Pacific Northwest.
Center for Biological Diversity is a national, nonprofit conservation organization with more than 1.1 million members and online activists dedicated to the protection of endangered species and wild places.
SeaWolf is an all-volunteer, NW marine wildlife advocacy and education organization, focusing mainly on the Southern Resident Killer Whale population and other coastal NW species.
ACTION REQUESTED
Pursuant to the Endangered Species Act (ESA), 16 U.S.C. § 1540(f); the Marine Mammal Protection Act (MMPA), 16 U.S.C. § 1382(a); and Section 553(e) of the Administrative Procedure Act (APA), 5 U.S.C. § 553(e)[1], Orca Relief Citizens' Alliance and others hereby petition the Secretary of Commerce, through the National Marine Fisheries Service (NMFS), to establish a whale protection zone (WPZ) with supporting regulations to facilitate recovery of the endangered southern resident killer whale (Orcinus orca; SRKW). The SRKW is listed as an endangered distinct population segment (DPS) under the ESA and a depleted population stock under the MMPA. In the course of such rulemaking, NMFS should determine the most appropriate geographic location, boundaries, and other supporting regulations to ensure recovery of the endangered SRKW DPS.[2]
Section 9 (a)(1) of the ESA makes it "unlawful for any person subject to the jurisdiction of the United States to take any such [endangered] species within the United States or the territorial sea of the United States" and Section 3(19) defines the term "take" to mean "to harass, harm, pursue . . . or to attempt to engage in any such conduct," any or all of which may occur as commercial and private motorized vessels follow the SRKWs.
Section 7(a) (1) of the ESA directs the Secretary to "carry out programs for the conservation of endangered species and threatened species listed pursuant to section 4 of this Act." Section 3(3) defines "conserve," "conserving," and "conservation" to mean "to use and the use of all methods and procedures which are necessary to bring any endangered species or threatened species to the point at which the measures provided pursuant to this Act are no longer necessary." [3]
The MMPA (section 2(2)) states: "In particular, efforts should be made to protect essential habitats, including the rookeries, mating grounds, and areas of similar significance for each species of marine mammal from the adverse effect of [human] actions."[4] The MMPA (section 112(e)) further states: "If the Secretary determines, based on a stock assessment under section 117 or other significant new information obtained under this Act, that impacts on rookeries, mating grounds, or other areas of similar ecological significance to marine mammals may be causing the decline or impeding the recovery of a strategic stock, the Secretary may develop and implement conservation or management measures to alleviate those impacts. Such measures shall be developed and implemented after consultation with the Marine Mammal Commission and the appropriate Federal agencies and after notice and opportunity for public comment."[5] The SRKW DPS is a strategic stock by virtue of the fact that it is listed as endangered under the ESA.
The APA allows for an interested person to participate in the updating of regulations through the submission of a petition for the "issuance, amendment, or repeal of a rule" (5 U.S.C. § 553(e)). Failure to respond to such a petition within a reasonable timeframe constitutes a violation of an agency's duty under the APA (5 U.S.C. § 555(e)). The petitioners consider 12 months to be such a reasonable timeframe and request that the agency respond to the petition within that period.
In this petition, Orca Relief and co-signers (hereafter referred to as the petitioners) demonstrate that the SRKW DPS is not recovering, that SRKWs are being "taken" regularly by noise and disturbance from commercial and non-commercial vessels ranging from tanker and cargo ships to commercial whale watch and recreational boaters, which collectively impact the SRKW communication and degrade their habitat with noise. Thus, both the whales and their habitat warrant further protection. NMFS has the authority to establish and implement protective measures that it is not using. To fulfill its responsibilities, the agency should rapidly implement any methods and procedures that would aid full recovery of the SRKW DPS, including a whale protection zone (WPZ). Although SRKW suffer from multiple threats, including lack of adequate food, pollution, and the risk of a catastrophic oil spill, a WPZ is a commonsense approach to noise impacts that can be implemented immediately.
The best available science, evident in NMFS' own documents, clearly demonstrates that a WPZ is necessary. NMFS included the SRKW DPS in its 2016 report to the US Congress, "Species in the Spotlight: Survive to Thrive" – a five-year action plan for recovery of eight species most at-risk of extinction from population decline and habitat destruction.[6] The agency writes that it will take action where it has "the discretion to make critical investments to safeguard these most endangered species" and that its evaluation of existing regulations "will inform any potential revisions to existing guidelines and regulations or consideration of additional protections, such as a protected area."[7]
Confident that such a WPZ is necessary, the petitioners urge NMFS to act on this petition with all due haste. Recent trends indicate that recovery will be increasingly difficult in the absence of stronger habitat protection. Killer whales are an iconic species, particularly in the Pacific Northwest; and their presence in the Salish Sea is strongly reflected in Native culture and the staunch environmental ethic that is characteristic of the region. These iconic whales deserve protection from noise and disturbance and, given recent trends, their very existence appears to depend upon it.
Dated this 4th day of November, 2016
Bruce Stedman, Executive Director (2016)
Orca Relief Citizens' Alliance
Miyoko Sakashita
Center for Biological Diversity
Michael Kundu
Project Seawolf
---