Land Based Whale Watching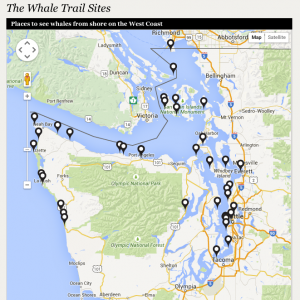 The Whale Trail is a series of sites around the Northwest where the public may view orcas, other whales and marine mammals from shore. The group's mission is to inspire appreciation and stewardship of whales and our marine environment by establishing a network of viewing sites along the whales' trails through Puget Sound and the coastal waters of the Pacific Northwest.
In the San Juan Islands, there is a unique opportunity to watch killer whales from shore.
"Lime Kiln State Park is one of the best places in the world to watch whales from shore, and is the inspiration for The Whale Trail. Three pods of southern resident orcas (J, K and L pods) frequent nearby waters from May to September, and often come spectacularly close to shore.The 3.6-acre day use park is on the west coast of San Juan Island, abutting Haro Strait. A meandering path along the rocky shore connects the Karen Munro Outlook at the south end of the park to the Lighthouse on the north." – The Whale Trail
"The Lighthouse is a center for ongoing orca research. It is also open for tours during the summer.
The views from the Park are awe-inspiring, even when the whales aren't there. Looking southwest from the park, the Olympic Mountains tower over the Strait of Juan de Fuca. Looking west across Haro Strait, Vancouver Island is etched in deep blue across the horizon. The lights of Sidney B.C. are sometimes visible in the distance." – The Whale Trail
Driving Directions to Whale Watch Park:
As you leave the ferry, simply follow the ferry traffic by turning right as you get off the ferry ramp and take your first left (by the tree in the middle of the road) which is Spring Street. Follow this street through and out of town. Approximately one mile out of town you will see a street sign pointing to the left; this is Douglas Road. Turn left. This road will change its name after about 2 1/2 miles into Bailer Hill Road as it turns 90° to the right, but you will continue on this road for approximately another 7 miles. This road will lead you directly to Limekiln State Park, which is also known as the 'Whale Watch Park'.
Ferry Travelers:
San Juan Transit offers transportation around the island, serving Friday Harbor, Roche Harbor Village, Lavender Farm, Alpaca Ranch, San Juan Vineyard, Whale Watch Park (Limekiln Point State Park), English Camp, San Juan County Park, Lakedale Campground / Resort and 80% of the lodging facilities.