Federal Government Weighs Proposal for Whale Protection Zone for Puget Sound's Killer Whales
The National Marine Fisheries Service (NMFS) announced today that it will consider a whale protection zone that will reduce noise and vessel disturbance of endangered southern resident killer whales. This population of killer whales has declined severely with only 78 whales remaining. The scientific petition seeks to protect core foraging habitat for the killer whales by reducing vessel disturbance. The key threats to killer whales include prey limitation, noise and pollution. The Proposed Rule will be published in the Federal Register on Friday, January 13th, 2017, and open for public comment during a 90-day period through the Administrative Procedure Act process.
In 2009, the NMFS imposed a 200-yard approach rule and prohibition on parking vessels within the path of the whales, which was finalized in 2011. In November 2016, Orca Relief Citizens' Alliance, Center for Biological Diversity, and Project SeaWolf submitted the formal Regulatory Petition to NMFS requesting that the agency use it's authority to establish a Whale Protection Zone (WPZ) in effort to expedite recovery of the endangered Southern Resident Killer Whales (SRKW).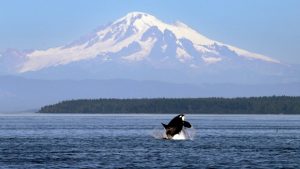 The Southern Residents, which often frequent the southern Salish Sea, are listed as an endangered population under the Endangered Species Act and a depleted population under the Marine Mammal Protection Act. It is under these Acts that Orca Relief and partners called on the NMFS to exercise their authority.
The SRKW population is currently at an alarming 78 individuals. In October 2016, the death of J-28 (Female, 1993) was confirmed, and her calf J-54 (Male, 2015) has not been seen since. After Orca Relief's filing of the Regulatory Petition, J-34 (Male, 1988) and J-2 (Female, 1911) were both confirmed deceased. The Southern Resident population is threatened primarily by lack of food due to declining Chinook salmon runs; toxic pollution and other contaminants; climate change; noise and disturbance. The Whale Protection Zone would give the population more quiet time for hunting, communications, and rest.
"The Whale Protection Zone is a substantial first step in preserving the Southern Resident Killer Whale population," said Scott West, Orca Relief's Executive Director. "These endangered orca whales are constantly harassed and assaulted from boating noise and other recreational activity, which impact their ability to hunt and peacefully exist in a climate where they already suffer from toxic pollution, climate change, and diminishing food supply. The news today gives us hope that the SRKW can recover from the edge of extinction."
"I have a sinking feeling because so many orcas died this past year because they're so seriously close to extinction. We need to use everything possible to safeguard the last 78 whales, and a whale protection zone will protect them from noise and other disturbances," said Miyoko Sakashita, oceans program director for the Center for Biological Diversity.
NOAA's decision to publish the Regulatory Petition within the Federal Register, for public comment, is an optimistic step in the effort to safeguard the SRKW population. Without these concrete steps being taken, the SRKW population face an acute risk of extinction.
To see more details and submit your own comments please click here. Comments in support of a Whale Protection Zone are needed now more than ever!
See NOAA's official press release below:
NOAA invites input on proposed killer whale protection zone
FOR IMMEDIATE RELEASE
January 12, 2017
Contact: Michael Milstein, NOAA Fisheries
971-313-1466
Michael.milstein@noaa.gov
NOAA Fisheries is seeking public comments on a petition calling for a whale protection zone for highly endangered Southern Resident killer whales on the west side of Washington's San Juan Island.
The November 2016 petition from the Orca Relief Citizens' Alliance, Center for Biological Diversity, and Project Seawolf asks NOAA Fisheries to establish a protected zone free of motorized boat traffic to promote recovery of Southern Residents, which now number 78 whales.
In 2009 NOAA Fisheries considered a similar protection zone as part of a package of vessel regulations to protect these whales. The agency adopted vessel traffic regulations in 2011 requiring that boats stay 200 yards from the whales and out of their path, but it did not finalize a protected zone in light of strong opposition at the time.
"To be effective, regulations require a degree of public acceptance, and we did not see sufficient support for a protected area in 2011," said Lynne Barre, NOAA Fisheries recovery coordinator for the Southern Resident killer whales. "The petition presents an opportunity to revisit that idea and get input from the public on this type of protection for the whales."
Studies indicate that the whales forage less in the presence of boat traffic, and boat noise may disrupt the echolocation clicks the whales use to find food.
NOAA Fisheries filed its request for public comments in the Federal Register today, with a comment period of 90 days. The comments will help NOAA Fisheries decide whether to take further action on the petition.
The action follows a difficult year for the Southern Residents, with the loss of seven whales in 2016. NOAA Fisheries designated the whale population as one of eight national "Species in the Spotlight" at high risk of extinction and has an action plan to advance the whales' recovery.
"We're looking at every option and every opportunity to address the threats to these whales," said Barry Thom, Administrator of NOAA Fisheries West Coast Region. "We're all very concerned about the losses of the last year and we're determined to work with our partners to pursue the action plan and turn that around."
NOAA Fisheries recently completed a status review for Southern Residents under the Endangered Species Act. Although the review documented progress in understanding and addressing threats to the whales, it concluded that the Southern Resident population remains at high risk of extinction and should remain listed as endangered. Population modeling by NOAA Fisheries' Northwest Fisheries Science Center suggests the possibility of further declines in Southern Resident numbers, with recovery actions needed to reverse the trend.
Research has identified three primary threats to the Southern Residents: limited availability of their favored prey, Chinook salmon; accumulation of toxic pollutants in their bodies; and the impacts of vessel traffic and noise. The action plan includes science-based steps to address each of the threats, from individual health profiles of the whales to better understand their physical condition to targeted salmon restoration to rebuild the whales' key food sources.
To implement one of the actions, NOAA Fisheries' partner the SeaDoc Society plans to convene a panel of experts in early March to examine the latest science on the availability of the whales' prey and its relationship to their body condition. The SeaDoc Society is a program of the UC Davis School of Veterinary Medicine.
"We recognize that time is of the essence to pull data and experts together regarding the health of the whales and, as scientists, we're trying to work together, move forward, and inform recovery," said Joe Gaydos, wildlife veterinarian and chief scientist of the SeaDoc Society.
Click here for more details and instructions for submitting comments.
More information:
Petition for Whale Protection Zone
Endangered Species Act December 2016 Status Review
Research and Conservation 10-year report
Species in the Spotlight Action Plan